Australian Made Week
The first 'Australian Made Week' started on the 24th May, launched by Australian Made.  Solpod offers the only Australian Made and manufactured solar mounting products, including our large modular Solpod Roof, Solpod Ground and the versatile Solpod Mini.
Australian Made Week runs until Sunday the 30th May.  The Chief Executive of Australian Made, Ben Lazzaro, said: "It's an opportunity to focus on the benefits of buying local and highlight that when you buy Australian Made, you have a direct economic impact on the livelihoods of hundreds of thousands of Australians throughout the supply chain."
The Australian Made campaign quoted research by Roy Morgan, that shows that if Australian households spent an extra $10 per week each on Australian Made products, it would create 11,000 jobs and generate $5 billion to the economy.
Australian Made Week urges customers to buy Australian Made during and after the week.  It is a time when when many businesses are showing corporate responsibility by switching to renewables and solar energy in response to the climate emergency.   The Australian Made campaign asks that we choose Australian Made, as this will support jobs growth and aid in economic recovery.
Choose Australian Made Solar with Solpod
Solpod is the only Australian solar company that offers fully Australian Made and manufactured solar mounting solutions.  Solpod was officially recognised as Australian Made in 2020.
Solpod was established in 2018 by a team of passionate solar executives, keen to offer mounting products that met the real needs of businesses.  Many businesses have been unable to commit to a fixed rooftop solar system requiring a commitment of 25+ years.
The Solpod team developed a relocatable solar system for the commercial and industrial market, suitable for many landlords and renters with large rooftops.  Solpod's innovation in developing redeployable solar, meant the market could be opened up to short-term solar leasing through Solpod Rental.
Australian innovation is generating the stand out solutions that serve the commercial and industrial solar market.  Supporting Australian innovation in solar also helps to to boost the Australian economy.  Solpod was awarded the most Innovative Solar Solution at the Solar Cutters Award, and was a Finalist of the Victorian Premier's Design Award.
See a following video of a Solpod installation on Colonial Brewery in Port Melbourne. James Larratt, the CEO and Founder of Solpod, says in the video: "Solpod is Australian Made and Owned, and we are making it easier for businesses to choose to install solar."
Manufacturing in Dandenong
Solpod mounting products are manufactured in Dandenong, in the South East of Melbourne, an area well known for its established and highly regarded manufacturing.
Solpods are modular solar pods that are prefabricated in the Melbourne factory.  The solar pods are flat packed, meaning less time is spent on site during installation.  Solpods are rapidly installed via cranes.  A 100kW Solpod system can be installed in only one day, compared to a standard solar system which usually takes several weeks to complete.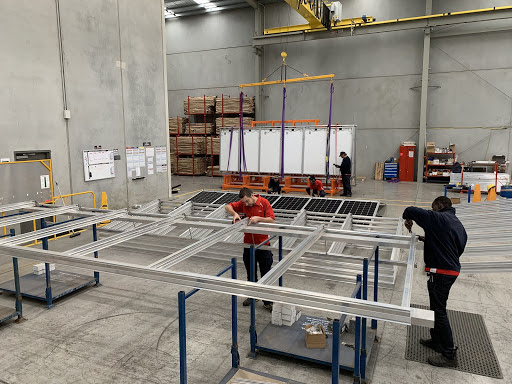 Elyse Knowles, Australian Made Week Ambassador, in the following video, says: "Show your support for Aussie manufactured products, regarded as high quality, made to last and withstand Australia's harsh environment."
To find out more about Solpod's Australian Made modular solar pods or solar mounting products on offer, please contact info@solpod.com.au or call +03 9089 0753.